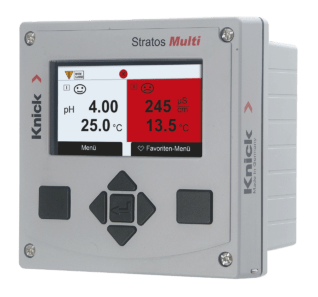 Stratos Transmitter
Comprehensive product family in 2- and 4-wire versions, with BUS communication and explosion protection.
With its exceptional range of functions and application-oriented design, the Stratos series is well-established in the entire chemicals industry, in process and power plant engineering and in the pharmaceutical and biotechnology industries.
Robust plastic housing, also for outdoor applications
Display with colored backlighting for status diagnostics
Easy, icon-based operation
For digital Memosens and analog sensors
Large terminal compartment for easy installation
Universal application options in indoor and outdoor areas, in all conceivable network architectures, and the virtually unlimited combination options with almost all commercial sensors for fluid analysis have made Stratos the standard product in national and international production systems.
Item Description
Stratos Pro
Stratos Evo
Stratos MS
Stratos Eco
Stratos Multi